Winter 23 at Rundle Place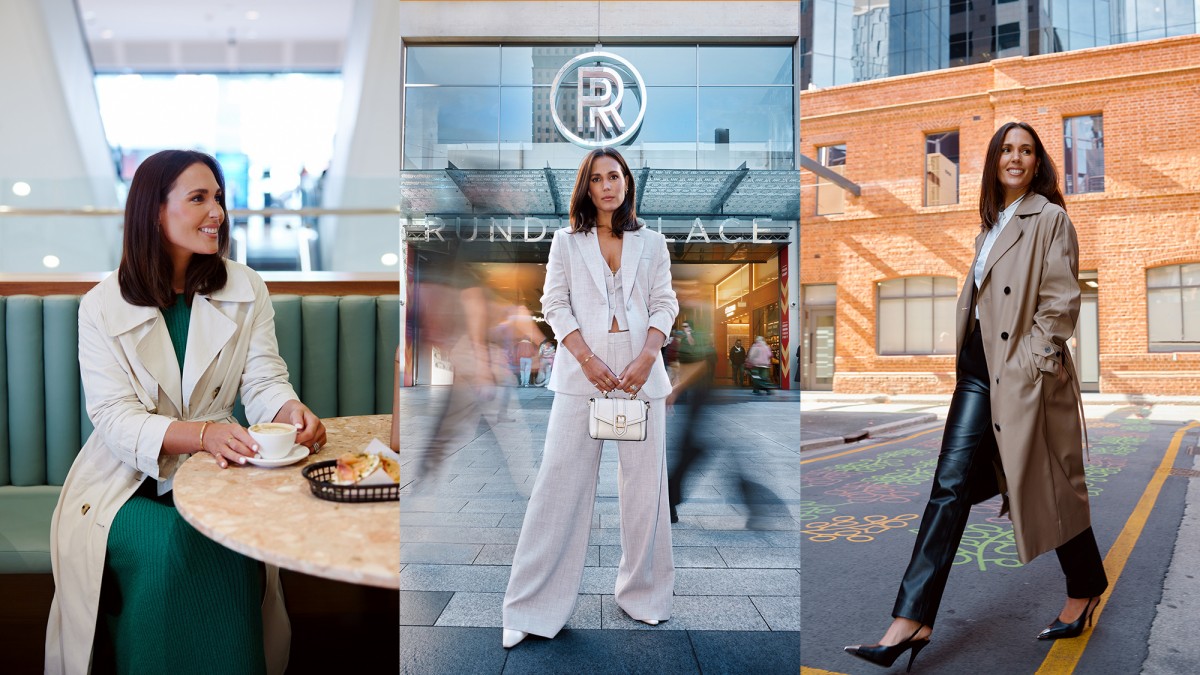 Winter 23 at Rundle Place
We recently had the pleasure of teaming up with renowned Adelaide Fashion Stylist Mirella Romano and honorary Adelaidian Bel Sloane for a unique experience at Rundle Place. We meandered through the centre on a warm autumn day, making a necessary pit stop at our newest addition, Dawn Patrol, for a well-deserved coffee. Don't miss our Winter '23 trend report for this season's must-have trends.


Longline Coats
This winter, style and functionality coexist in longline woollen essentials. This season, find Australian wool from Country Road and Witchery, complementing everyday basics or upgrading with leather pants like those offered by Nude Lucy. These coats, made from high-quality fabrics, are designed to provide more than just protection against the cold; they are a fashion statement that enhances your silhouette and adds an air of sophistication to your attire.
One of the many advantages of these longline woollen coats is their versatility. Perfect for your day-to-day activities, and when the sun goes down, they effortlessly transition into a chic night-time look. So whether you're heading to work, running errands, or stepping out for an evening event, these coats will ensure you do so in style.This winter, don't just dress to stay warm; dress to impress with our range of longline woollen coats. Remember, fashion is not just about following trends; it's about setting them. So, redefine your winter wardrobe with these timeless pieces and step out in confidence, knowing that you're not only protected from the cold but also looking your stylish best.
Dual-Tone Dressing



The curated dual-tone dressing assortment at Rundle Place invites patrons to experiment with colour contrasts and minimalist designs. Uncover basics enhanced by exceptional craftsmanship at Nude Lucy or lululemon this winter. Amplify your outfit's allure with denim textures this season from Seed Heritage and Serafina. One of the standout trends this season is incorporating denim textures into your ensemble. Seed Heritage and Serafina offer a varied selection of denim pieces that can add a touch of vibrancy and texture to your outfits. From classic indigo to modern hues, their collections cater to every denim desire.
While straight leg and boot cut jeans continue to be a winter staple, we're also seeing a rise in bodysuiting and layering with sheer pieces over classical basics. These pieces not only provide an additional layer of warmth but also add a layer of sophistication to your attire.When it comes to dual-tone dressing, don't be afraid to mix and match. Seek out dual-tone sets and combinations that allow you to express your individuality. Remember, fashion is about personal expression, and there's no better way to showcase your style than by embracing colour block dressing. Whether you opt for monochrome sets or vibrant combinations, your winter wardrobe is sure to stand out at Rundle Place.
Relaxed Tailoring
At Rundle Place, we love to celebrate the balance between comfort and style. Relaxed tailoring is here to stay and brings you the best of both worlds.

A harmonious blend of comfort anda sophistication, find yourself in fluid, floaty silhouettes featuring 2 or 3 piece suiting collections across Witchery and Country Road. Pair oversized suiting back with an elegantly crafted handbag from Mimco, or leather goods from Trenery.
Leather Textures
A-line leather pieces are a must-have for your winter wardrobe. Indulge in pieces to last you seasons to come - with their precision design and eye for detail, Witchery, Seed Heritage, Trenery and Country Road have all your shapes and styles. Buttery leathers and their faux options offer a unique elevated texture this winter. To layer, find your next staple everyday bag at Mimco, made from the highest quality premium leather.

Winter is knocking at our doors, Adelaide. It's time to welcome it in style. Explore our collections and discover your unique winter style. Adelaide's best is getting better, with Rundle Place!