Must-Have A/W Fashion Staples for '22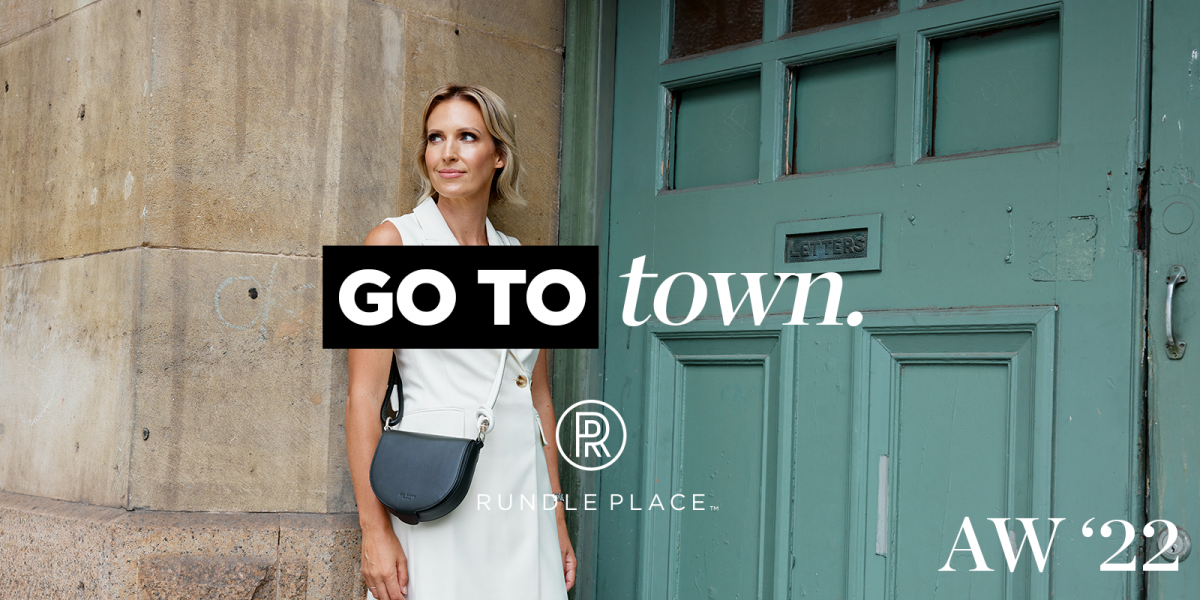 Must-Have Autumn/Winter Fashion Staples for 2022
With the arrival of cooler weather, now is the perfect time to review your wardrobe and update your Autumn/Winter fashion. With endless outfit combinations and opportunities to layer your favourite pieces, we've put together staples from the latest arrivals at Rundle Place. Beautifully modelled by our style muse Rebecca Morse, and photographed in the urban streets of Adelaide, get inspired by looks from our fashion labels including Ted Baker, Mimco, Witchery and Country Road. Get ready to create your AW22 wish list with all outfit details below available to shop at Rundle Place.
Statement Suiting
Rebecca wears Ted Baker Joannid Sleeveless Blazer Mini Dress, Mimco Mode Boots in Cream, Ted Baker Amelina Rope Handle Mini Cross Body Bag.
Light up your transeasonal looks with a fashion faithful, a blazer mini dress from Ted Baker. An incredibly versatile piece that looks striking when paired with show stopping Mimco boots, keep the outfit monochromatic with a black bag like this one from Ted Baker or go bold with a pop of colour from your existing wardrobe. As we approach cooler weather in winter, style the blazer mini dress with trousers or a shirt underneath for extra warmth. The block heels make these beauties super comfortable to walk in, now you're ready for a night out on the town!
Chic Workwear
Rebecca wears Witchery Wide Leg Pant, Witchery Linen Lace Blouse, and Witchery Gwen 85Mm Suede Heel.
Go from the office to after-hours with style in this Witchery ensemble featuring a feminine and floaty linen lace blouse and earthy toned wide leg pants. This combination paired with your favourite heel, we've opted for a Witchery suede heel at a comfortable height for work, will elevate your workwear game. Add a blazer or coat on top for the commute or midday outings and your favourite gold accessories to complete the look. The whimsical shirt is also perfect for the weekend paired with jeans and ankle boots, with the belted wide leg pants also elevating a simple white tee and sneaker look, we love their wearability across the whole week.
Rainy Day Adventures
Rebecca wears Country Road Seam Detail Trench Coat, Country Road Australian Merino Wool Silk Short Sleeve Knit, Country Road Taylor Crossbody Bag, and Witchery Albi Leather Boot.
When we think winter staples, the first thing that comes to mind is a timeless and polished trench coat. This wardrobe essential from Country Road is softly structured and features a seam detail giving an extra element of style to your leisure or signature work looks. For rainy day adventures that include shopping, family outings and lunch with the girls, we'd pair the trench with a Country Road knit and cross body bag, and Witchery leather boots creating a warm and cosy yet polished ensemble. Serving you all year round, we'd recommend keeping this trench on hand to style over dresses, skirts, and trousers – we love that cost per wear.
Go To Town
Rebecca wears Witchery Gwen 85Mm Suede Heels, Witchery Leather Figure 8 Bag, Witchery Leather Mini Skirt and Witchery Mini Check Car Coat.
For those occasions like an important meeting or dinner date when you're pressed for outfit ideas, this Witchery mini skirt and check coat will save the day. Forming the foundation of a capsule wardrobe, accentuate the outfit with classic and modern essentials including a shirt, knit or tee and you'll always look put together. We love how versatile autumn/winter fashion is, if it's too cold for bare legs, add your favourite stockings and boots, or dress the coat down by wearing it over your loungewear for fashionable weekend strolls.
We hope we've reinvigorated your love for winter staples and have got you inspired to create new combinations with your existing wardrobe by adding in a few essentials from our latest arrivals. Stay tuned for more blog posts on the latest Adelaide fashion trends and offers at Rundle Place and remember to follow us on Facebook and Instagram to keep up to date with the latest.
We'd love to know which AW22 look was your favourite, head to our Instagram page and let us know.