Men's Fashion Essentials for Winter 2022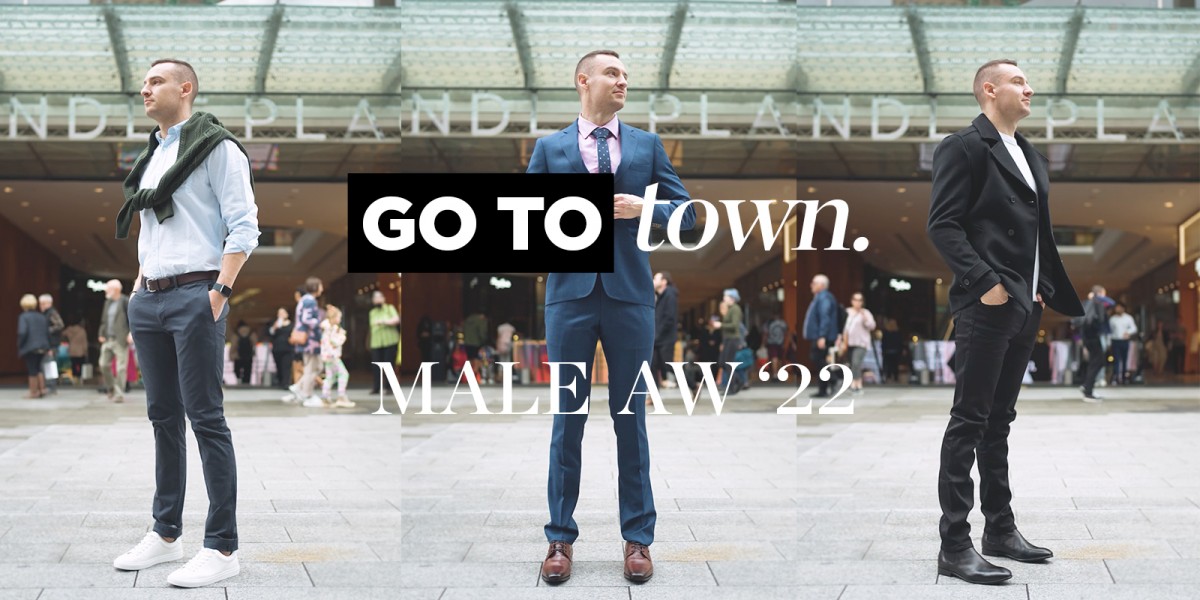 Men's Fashion Essentials for Winter 2022
Stay warm this winter without sacrificing style with men's fashion staples that will have you creating on-point outfits all season long. With an emphasis on versatile key pieces that provide endless options for layering, subtle colours and mix and match essentials to get ready with ease each morning. Whether you are revamping your entire wardrobe, or need to replace or add a few key items, we're sharing cool weather style combos styled by stylish Michelle Beltrame from Country Road, Trenery, Oxford, Politix and Florsheim all shoppable at Rundle Place with outfit details below.


Sports Luxe (Left Outfit)
Cameron wears Country Road Australian Cotton Sweat Pant in Olive, Country Road Pima Crew T-Shirt in White, Country Road Australian Cotton Textured Mock Neck Knit in Navy, Country Road Recycled Polyester Puffer Vest, Florsheim Premiere Sneaker in White.

If the weather turning chilly doesn't deter you from heading outdoors, a sports luxe look will keep you warm and cosy for your adventures. Whether you're walking your pup, hiking with mates, or taking the kids to soccer, layering up is key. A puffer vest is a winter favourite and staple, the vest style gives you core body warmth and insulation while leaving your arms more flexible for your outdoor activities. Keep the look casual with sweatpants or joggers, knitwear and sneakers, or dress it up with jeans for a lunch or family outing.
Modern Man (Right Outfit)
Cameron wears Country Road Textured Crombie Jacket, Country Road Verified Australian Merino Half Zip Knit, Country Road Slim Fit Black Jean, Country Road Chelsea Boot.
Commuting to the office or meetings during winter weather and windy days is made simple with the protection of a wool coat. A classic style in an earthy or neutral tone is the perfect investment that you can wear on rotation. For a business casual look, pair with dark denim or chinos, boots, and a sweater, or for a formal ensemble, wear over your suit. Layering in winter allows you to remove outer layers when you reach your destination to avoid overheating.

Weekday Essentials
Cameron wears Trenery Tailored Organic Cotton Yard Dyed Oxford Shirt, Trenery Slim Chino Pant, Trenery Cable Knit Crew, Trenery Eddie Belt, Florsheim Premiere Sneaker.
Always in a rush to head out the door in the mornings? Chinos are your go-to versatile pants for all seasons. Both stylish and functional, they're easy to dress up or down to create an ensemble to suit any occasion. Always available in a wide variety of colourways, classics include navy, beige, brown and black. Pair with your favourite matching or contrasting shirt with a belt and sweater. If you're after a more relaxed vibe, sleek, minimalist white sneakers are perfect, otherwise a desert boot always makes an outfit look put together.
Coordinated Cool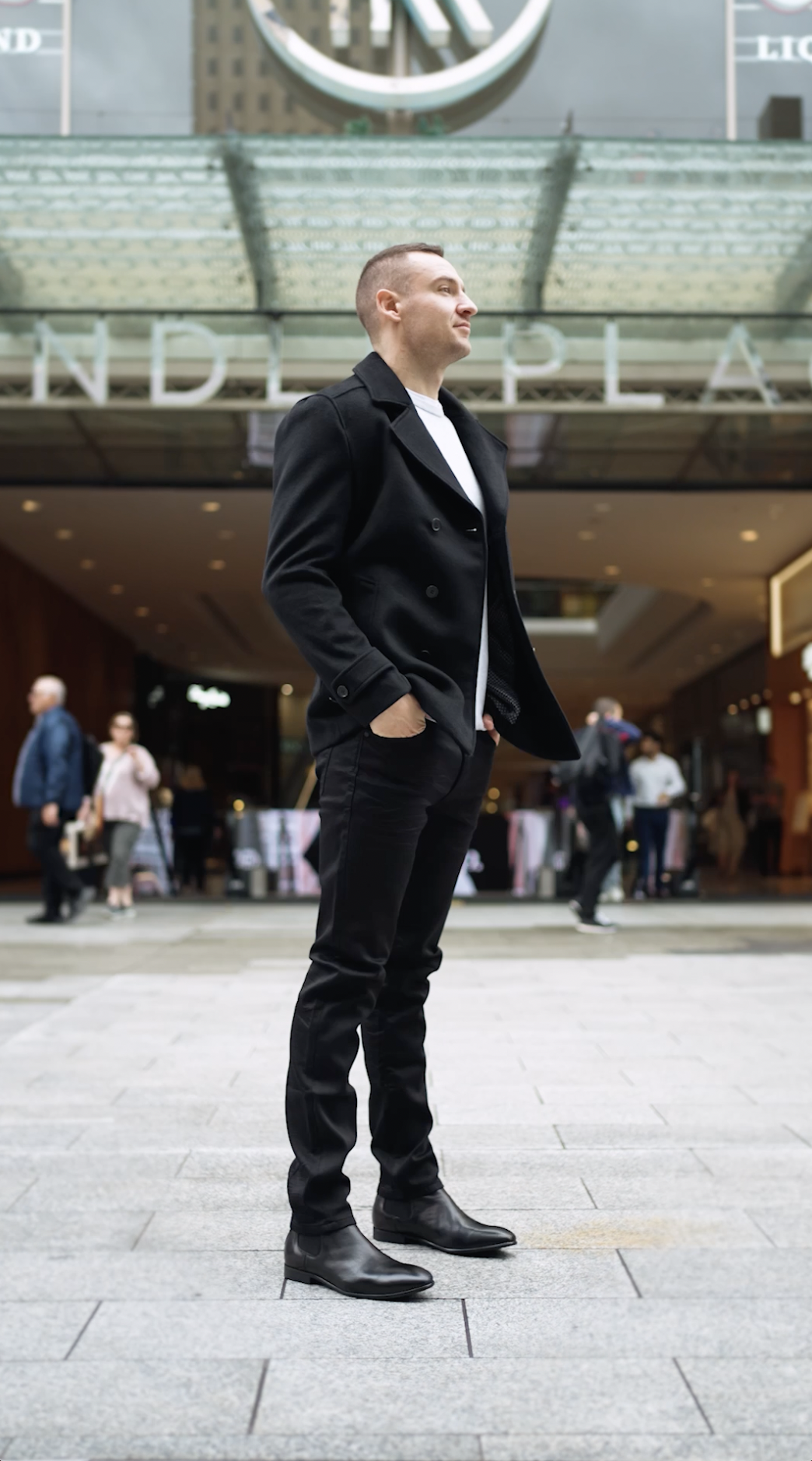 Cameron wears Politix Arbin Peacoat in Black, Politix Debonair Cotton Crew Knit in Grey, Politix Davis Jeans in Black, Politix Corvella Leather Chelsea Boot.
Chicken dinner, monochrome is still a winner. You can't go wrong with the classics. Coats are one of the best investments for winter, opt for a timeless silhouette to complement your wardrobe and create endless outfits. When it comes to sizing, make sure that it fits well through the chest while still leaving you with enough room to layer knitwear underneath, you don't want to restrict your arm movement or not be able to do it up in the cold. Add your favourite knitwear and denim with boots for understated sophistication.
Suit Up With Oxford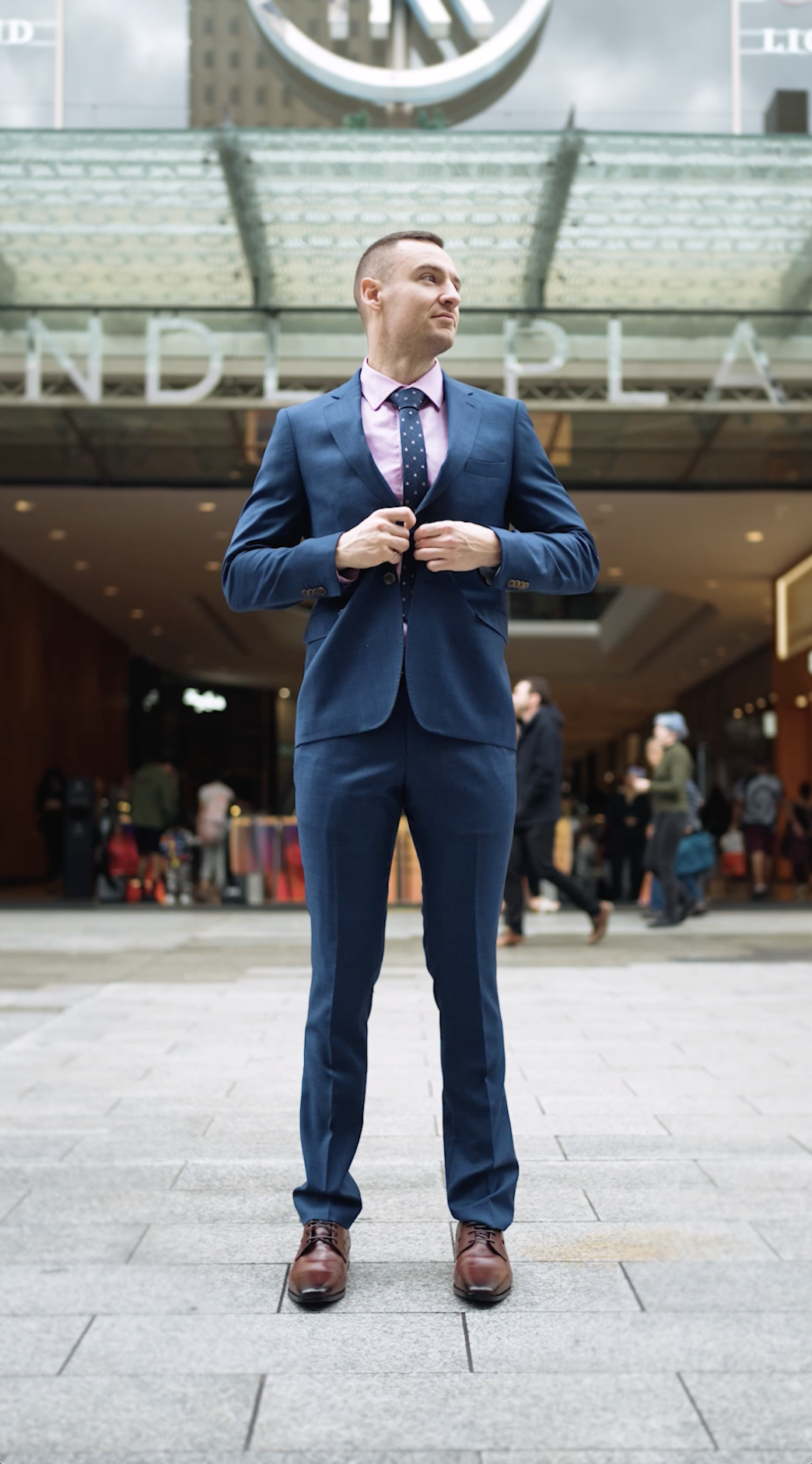 Cameron wears Oxford Byron Wool Stretch Suit Jacket, Oxford Byron Wool Stretch Suit Trousers, Oxford Islington Herringbone Lux Regular Shirt, Oxford Dot and Spot Skinny Silk Tie, Florsheim Koby Plain Toe Derby Shoe.

Even if working from the office is no longer a daily occurrence, a tailored suit is a men's fashion essential! Whether you've been invited to a wedding, have an upcoming job interview, important meeting, or formal event, a sharp suit will have you feeling a million dollars. We recommend investing in a few shirts and ties in different colours to mix and match for ultimate versatility. As well as a suit, a pair of dress shoes is crucial. Keep them clean and polished to make getting dressed up as swift as possible.

Shop the complete looks or your favourite elements at Rundle Place for impressive style. Stay tuned for more blog posts on the latest fashion trends and offers at Rundle Place and remember to follow us on Facebook and Instagram to keep up to date with the latest.